NEWS AND UPDATES
Feb 6 2012
DELILAH IS FINALLY HERE!!! :D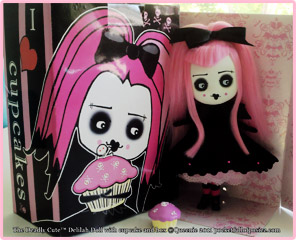 May 2010
Come see A tribute to the Haunted Mansion Group Art show I am in!

Opening Night June 5th 2010 7pm-11pm
2921 W. Magnolia Blvd Burbank CA 91505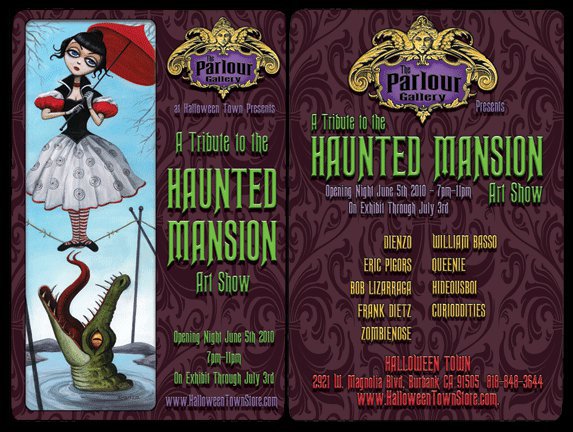 JAN 2010
Yes, FINALLY I will be able to start on the 3rd doll in the collection. Delilah will be starting production very soon and she will be for sale 2010. She will be a very limited edition, and will come with a cupcake and something more like an exclusive print and sticker. Production may be as low as 500 dolls and will retail for around $30-$40. This is a picture of the prototype, the actual doll will be a little different. I will be posting production updates as they start and come in on my blog on myspace.
http://www.myspace.com/queeniex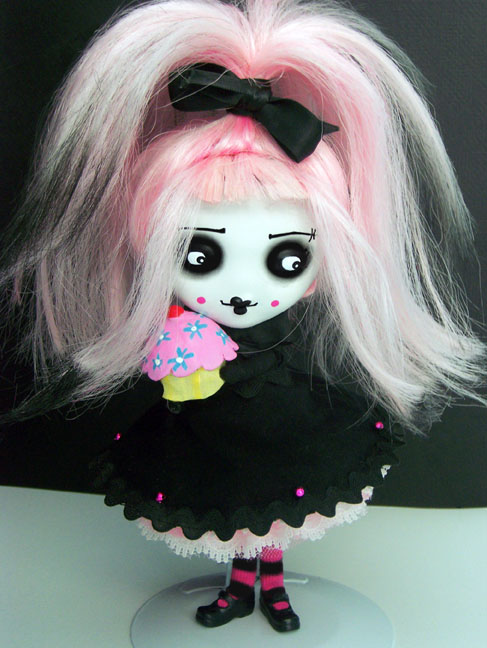 November 2009
NEw handmade EXCLUSIVE POCKET FULL OF POSIEZ™ jewelry designs available in my Etsy store and at Halloween Town in Burbank CA.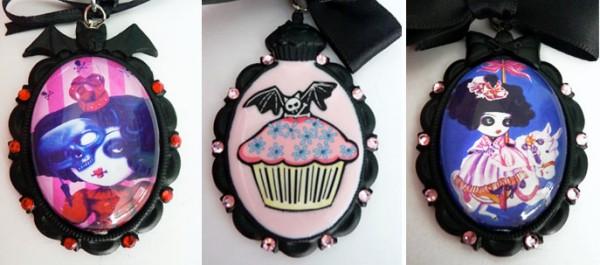 June 20 2009
New artwork and merchandise now at The Parlour at HalloweenTown!
Also new tote bags and tons of goodies available in my Etsy store
Come to the Everyday is Halloween Group Art Show
HALLOWEENTOWN
2921 W. Magnolia Blvd
Burbank, CA 91505
www.HalloweenTownStore.com
818-848-3644
December 2008
New artwork and merchandise now at The Parlour at HalloweenTown!
I also have lots of new handmade pins, ornaments and charms on my Etsy store!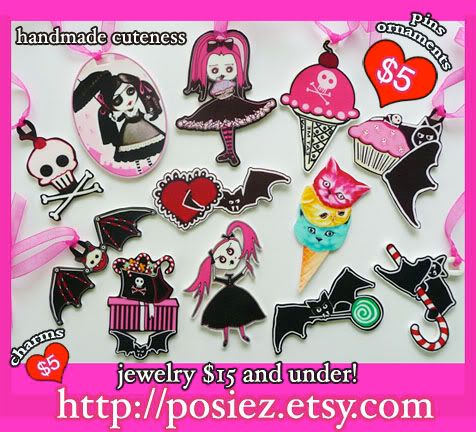 AUGUST 2008

NEW PAINTNGS AVAILABLE NOW!!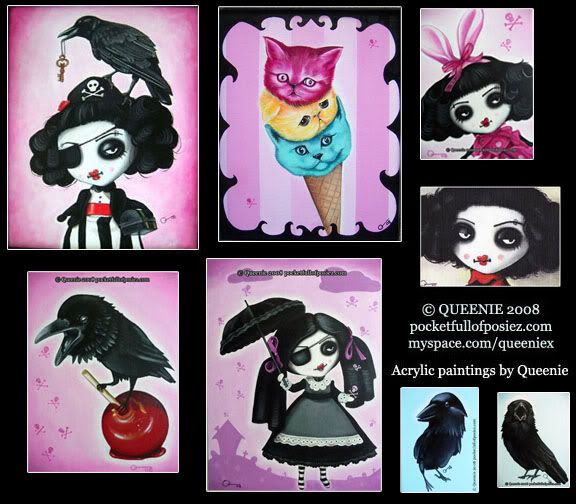 DECEMBER 2007

new artwork available often New Paintings!
i have been making one of a kind custom dolls out of Lyllionia and Paznzy dolls.
click to check my MYSPACE BLOG often for updates
there are currently 2 dolls up for auction on ebay, check my blog for the links ending DEC 7th! -SOLD-

OCTOBER 2007


PANZY THE PIRATE DOLL NOW AVAILABLE!!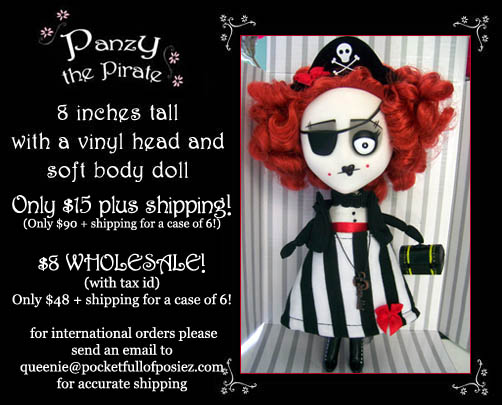 come to this! :D


VERY IMPORTANT NEWS!
IT HAS BEEN BROUGHT TO MY ATTENTION THAT BOOTLEG PATCHES AND PURSES OF MY CHARACTERS
ARE BEING SOLD IN STORES EVERYWHERE.
I DO NOT HAVE PATCHES OR PURSES AVAILABLE FOR SALE AT THIS TIME AND IF YOU SEE THEM THEY ARE PIRATED AND BOOTLEG!
I GET NONE OF THE PROFITS AND THEY ARE STEALING MY DESIGNS!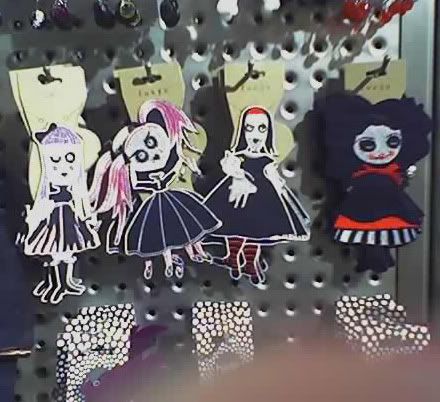 PLEASE if you see patches like this in any stores.. or if you have bought one.. send me the name of the store and what city/state it's in investigating is underway if it doesn't have my my copyright © Queenie or pocket full of posiez TM on it..it's fake besides..
I DO NOT HAVE POSIEZ PATCHES ON THE MARKET RIGHT NOW

Aug 07

and so it goes in the biz..
Hot Topic has informed me that they no longer wish to carry my dolls.
They are moving the whole store in a different direction.
That's okay because i have more potential on my own and my girls are wanting to be more exclusive :)
I do want to thank them for giving me the opportunity of having my Posiez in the store.
Panzy the Pirate will be available through my site for retail and wholesale purchase very soon. There has been a slight delay because of a problem in the factory in China having to do with them using lead paint and all toys have to be tested before entering the states and other countries.
in other FUN news..

i still have a couple paintings available for sale at Hyaena Gallery!

also..
hideousboi and i have started a channel on ustream!
We will be chatting LIVE once a week on QueenieTV!
i also have a channel on youtube that i update once a week with silliness
July 07
Pocket Full of Posiez will be vending the Bats Day Black Market!
Shirt for the pre event is also designed by Queenie

Come join us at Disneyland!

There are new paintings available for sale on the HYAENA GALLERY website :)
I will be at Comic Con San Diego wed-sun walking around and at the OCTOBER TOYS booth from time to time!
Here is the Panzy the Pirate final production doll available soon on my site and Hot Topic stores in October!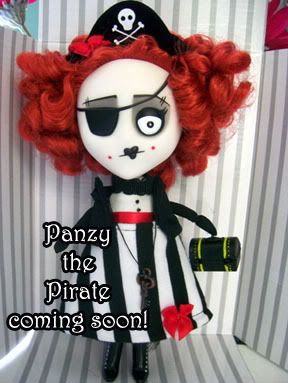 june 07

ART SHOW!!!


Feb 15 2007

Pins Postcards are now available on the HOT TOPIC WEBSITE! :)

January 20 2007

Brand new Pocket Full of Posiez Valentines Day designs are available at select Hot Topic stores now!!

There are 2 NEW TSHIRT designs 4 NEW PINS and 2 NEW POSTCARDS that aren't available on my site..
Check out your local HOT TOPIC and see if they have my girls there! :D

Here are the super cute Pins!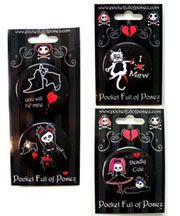 December 11 06


December 11th - the 18th 2006 order up yourself a cute little Lyllionia doll
and you will get a FREE print out of brand new Posiez xmas artwork
signed by me! :D (not sold or to be sold anywhere)
November 22 06
The Lyllionia doll and I are on the cover and I did an interview in DEVOLUTION MAGAZINE.
Order one today :)

Sept 1st

WE ARE NOW TAKING ORDERS FOR THE LYLLIONIA DOLL!!!

The first shipment of dolls are here!

Here is the Lyllionia doll and the first PROTOTYPE of our second doll Panzy the Pirate (not yet in production)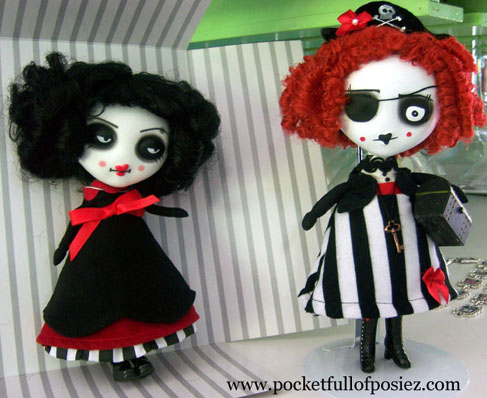 BATS DAY IN THE FUN PARK PICTURES ARE UP


August 9 2006

The finished Lyllionia doll!
She will be for sale (retail and wholesale) in a couple weeks on this site!
If you are going to be at the Bats Day Black Market i will be vending both days
and you can be one of the first to purchase her!
She is a limited edition of 1000
(this is the actual doll and not a prototype)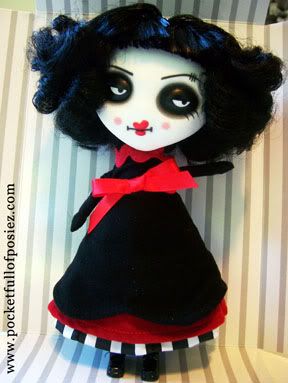 July 06 2006

Go see my custom gwins
I am the artist for the month of July 2006
at gwinarmy.com!
June 10 2006

Prints now available!!

New pirate posie artwork posted!
May 11 2006

New Delphinia Artwork Posted!

*********
April 26 2006
This is the PROTOTYPE of our first limited edition doll that is in production!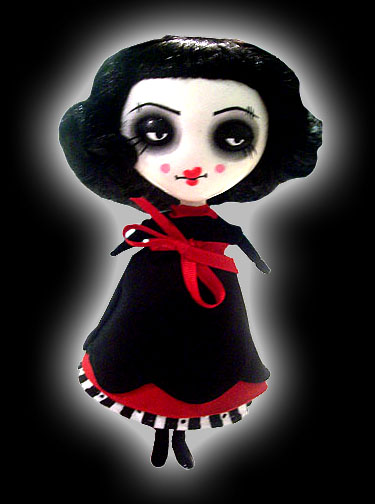 Feburary 11 2006
New Valentine's Day artwork!

November 4 2005
New Halloween Artwork!

*
October 4 2005
FREE HALLOWEEN ICONS

GET THE NEW HALLOWEEN DESKTOP!

*
September 2005

Lots of new T shirt designs

Lots of new pins

New posiez artwork here

21 Posiez LJ Icons added to free downloads

Bats Day weekend 2005 pictures
are up here

4 New Posiez added to the gallery

*

** this site requires Flash **